Optimising Physical Performance
FINDING OPTIMAL PHYSICAL PERFORMANCE
You don't need to be a professional athlete to want to understand how to optimise your physical performance. And it also doesn't matter if you are a runner, cyclist, swimmer, triathlete or weekend parkrunner. We all want to perform at our best level and are often chasing that elusive PB (Personal Best)!
Recovery is just as important as careful training, and getting your nutrition right is another crucial piece of the jigsaw of optimal performance. Yet, it is often overlooked by many athletes – or at least not given the due attention it deserves.
Making informed, targeted decisions with both nutrition and hydration can certainly result in improved performance, injury prevention and quicker recovery… but it can be difficult to know where to start with so much conflicting information around.
FEEL WELL
If you are interested in our services, arrange a call with our friendly team.
We want to understand what is going on for you, so we can match you with the right practitioner.
We value being clear and open about our prices, so please check Our Fees before booking a call.
Possible signs and symptoms
When working with athletes we often see the signs and symptoms of when things have gone wrong – recovering from injuries, or perhaps, the effects of overtraining:
Joint and muscle pain
Injuries slow to heal
Lack of energy
Overall struggle with performance
Opportunities to address these imbalances
For sports nutrition with all athletes, we start with the nutritional foundations:
Balanced carbs to provide the necessary fuel
Sufficient protein (from animal and/or vegetable sources) for muscle repair and growth
Healthy fats to help address inflammation, build cell walls and provide energy
But importantly, it's not only the macronutrients we focus on. Vitamins and minerals are essential and we emphasise eating a diet rich in colour and variety to optimise nutrient intake. In the quest for improved sports performance, very often these simple basics are overlooked.
We also focus on important aspects of lifestyle including sleep, stress management and physical recovery.
Once all these basics have been addressed, we then start getting specific as to the needs of your particular sport, including targeted supplements, meal timing, travel strategies and race-day preparation.
Personalised nutrition for athletes is individualised, depending on your needs. This can include injury prevention nutrition, overtraining nutrition rehab, or working towards optimal nutrition for physical performance.

BOOK A CALL WITH OUR FRIENDLY ASSESSMENT TEAM
Please check Our Fees page before booking a call.
Choose a day and time that works for you.
Tell us what is going on for you.
Let us explain how we can help.
Functional Testing options
Once we have covered the foundations, functional testing allows us to search deeper for any physiological imbalances that may be limiting your performance. We aim to get to the root cause of your presenting symptoms, then using Functional Medicine, to support your biochemistry as necessary to rebalance challenged body systems.
Stool Testing – provides insight into digestive health, and can help to inform us how to improve digestion and absorption of nutrients.
Blood Profiles – check for nutrient deficiency can provide information to build targeted supplement protocols.
Urine Amino Acid Analysis – a comprehensive test for identifying nutritional deficiencies (see the test summary below)
NutrEval test results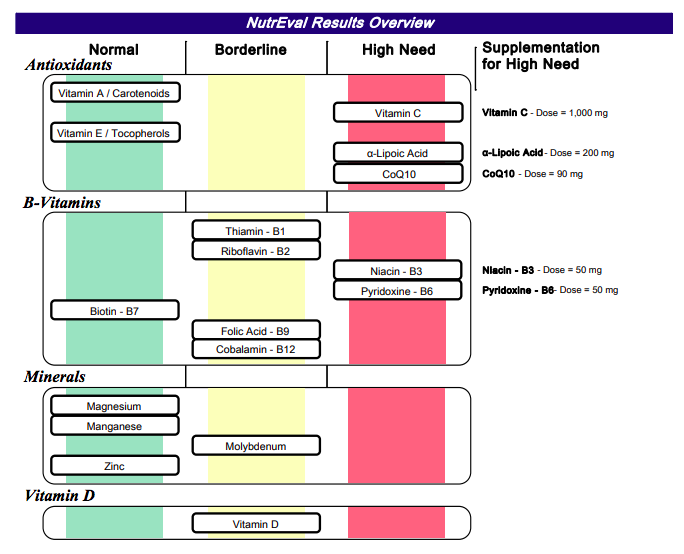 MEASURING STRESS & RECOVERY
Adrenal stress profiles help us to assess the balance between stress and recovery, and often informs not only nutrient support of the adrenals, but also important lifestyle changes to address possible overtraining.
We work closely with Firstbeat who provide advanced performance analytics for stress, recovery, sleep and exercise. Firstbeat is an assessment tool which helps you see the balance between these important markers, mapping the changes in your physiology over a 3-day period.
Firstbeat test result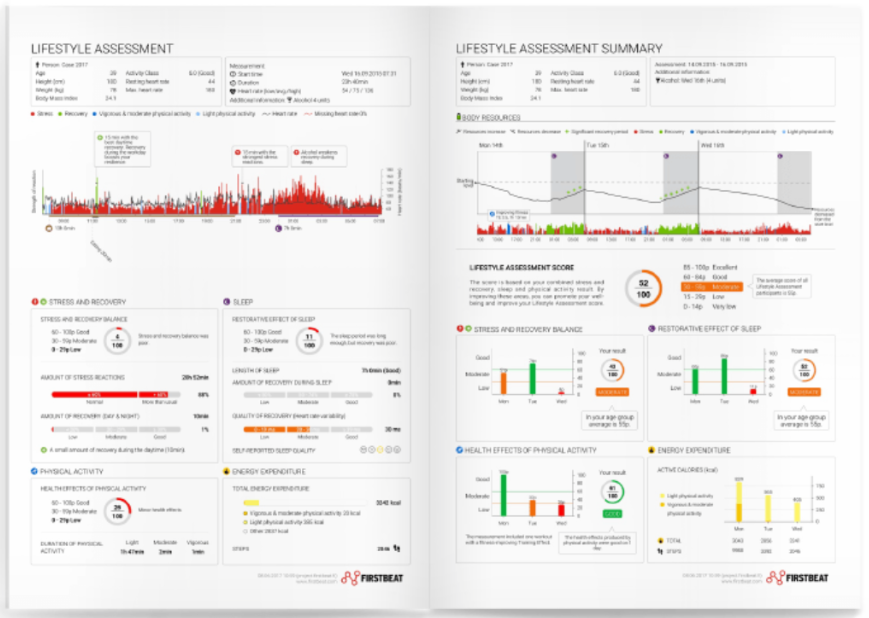 WE UNDERSTAND THE NEED FOR OPTIMAL SPORTS PERFORMANCE
Our whole nutrition team are enthusiastic sports people themselves.
Our sports dietitian, Helen, completed the London to Paris cycle ride for Action Medical Research and takes her bike on holiday – completing recreational cycling tours in France and Italy. She has also done 30-years of competitive show jumping, and 15years of competitive one-day events.
Our sports nutritionist, Sue, was a competitive road-cyclist in Namibia and has completed 3 marathons – Amsterdam, Venice and Istanbul.
Our sports dietitian, Jess, has been really lucky to take part in a lot of local races for cycling and running. Some of the more well known ones are:
Paris-Roubaix
Etape de Tour
L'Arrogenise sportive
Peak District 100
Tour de Yorkshire sportive
Club de Cingles (Ventoux)
Haute Route Oman
Lake Garda Half marathon
Jersey Half marathon
Belfast half marathon
Stoupa 10km (3rd)