Rebecca Warren
Nutritional Therapist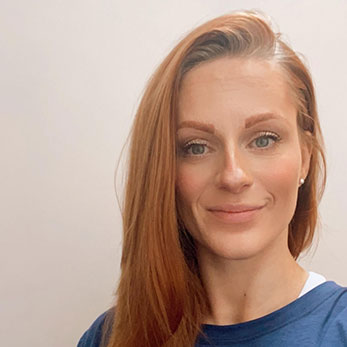 My journey to where I am today has taken some time. My inquisitive nature lends itself to further study; whether that is with the people around me both personally and through work but also through education; allowing me to help make change and do good.
After being exposed to numerous medications that were making my body slow down and feel worse, I felt that there had to be another way to be well. After attending a weekend lecture on Nutrition, I knew there had to be more to it and was desperate to heal myself and in the long term, aid others.
I walked away from the life we knew, retrained with the prestigious Institute for Optimum Nutrition; completing the 4-year Diploma in Nutritional Therapy. Training in functional medicine principles; a science based approach that determines the underlying causes of health problems and implements programmes to support and improve health and wellbeing.
I continue to undertake postgraduate training on a regular basis to ensure that my knowledge is in keeping with relevant scientific requirements within Nutrition and my specialisms, with particular interests in Eating disorders and the psychology around it.
I am currently undertaking The Master Practitioner course with The National Centre For Eating Disorders. A programme approved by the British Psychological Society Learning Centre and by the Royal College of Psychiatrists.
I am a Registered Nutritional Therapist & Eating Disorder specialist – a member of The British Association for Applied Nutrition and Lifestyle Medicine (BANT) and The Complimentary and Natural Healthcare Council (CNHC), which is accredited by the Professional Standards Authority, the regulatory body that assures standards of practice all areas of healthcare.
My passion for the restorative power of food, nutrients and lifestyle is immeasurable.
Having experienced these effects first hand – I draw on these experiences when working with clients.
My approach is personal, supportive, results – driven and science based. Using only proven and effective nutritional protocols and the most up – to – date diagnostic tools, I work with incredible clients, alongside a wonderful team of therapists; to transform your current health situation and enable lasting change and powerful results.
Days I Am Available At Nutritional Matters
I am currently working remotely which provides me with more flexibility.
Please get in touch so that we can provide you with my updated availability.
My fees
90 min consultation
£120
60 min follow up
£100
40 min follow up
£80
Qualifications & training
2020 Master Practitioner Programme, Eating Disorders & Obesity, National Centre for Eating Disorders
2019 Practitioner Programme, Eating Disorders & Obesity, National Centre for Eating Disorders
2019 Nutritional Therapy Diploma ION
2016 FdSc ION
2012 Level 4 PT; Nutrition Advisor, Pre and post natal exercise specialist
2007 LLB (Hons)
Membership of professional bodies
How i offer Nutritional Support
I work with clients across the UK, and around the world, using Skype, FaceTime & Zoom. There is no need to travel, and you can feel comfortable in your own home. It is free to set up and simple to use, so why not give it a try?
I offer sessions in English